NEWS & NOTES
Sympathy
Our sympathy is with the family of Melba Ballou (former member at PACOC) who passed away on August 23. Services were held Saturday.
Disciple Making Communities
DMCs will begin next Sunday, September 4th and Wednesday, September 7th! We believe that being in spiritual community is vital to our growth in Christ and encourage everyone to be part of one of these communities. All the groups are listed at pacoc.net/groups, or you can sign up on the app. If you are part of an existing group, consider who you can invite to join you and share the blessing of community.
New Adult Sunday Morning Class
The 9 am Sunday morning class will be moving to Room C next week as Lantz Howard will begin a 6-week class On Winning the War in Your Heart. The class is open to all adults.
Wednesday, August 31: Praise Night.
Join us in the worship center at 6:30 for another night of praise and prayer. We will reflect on the summer and look forward to what God has in store for Park Avenue this fall and beyond!
Volunteer Opportunities
We have a need for Bible class teachers and assistants for this Fall! Children in classes, especially Wednesday nights, need volunteers to mentor them. Please contact Rachel McClure at 903-624-6156 to volunteer.
Our PAWS meals will start back on September 7. To volunteer to help, text PAWS SETUP or PAWS CLEANUP to 844-931-1822, or sign up on the app.
On the 4 home game Fridays this fall, we will host the DISD female athletes for "Lady Jacket Breakfast." Volunteer to help cook or clean up at pacoc.net/ladyjackets
Mary Martha Ladies' Class
The Mary Martha class will resume September 7 and meets every Wednesday at 10 AM in the Atrium. They will be studying "Life Lessons from the Books of I and II Samuel."
Coffee & Donut Fellowship
Starting next Sunday, September 4th, come early to enjoy coffee, donuts, and fellowship, starting at 9:15 AM in the Atrium.
Youth Ministry
Sunday August 28: Connect and Connect Groups officially start! We will meet from 5:30-7:30pm in the Gym/youth Suite. Dinner will be provided.
Park Avenue Youth Needs Adult Volunteers! We have two big needs:

1. Volunteers to help cook on Sunday nights before our group meets. It is just a one week commitment.
2. Volunteers to help monitor and encourage students on Wednesday evenings during class. Sign up online at pacoc.net/youth. For more information please see Tyler Cope!

September 18: Front Porch Parenting! Contact Tyler for registration information.
October 8-9: Park Avenue Youth Fall Retreat! Registration opens soon!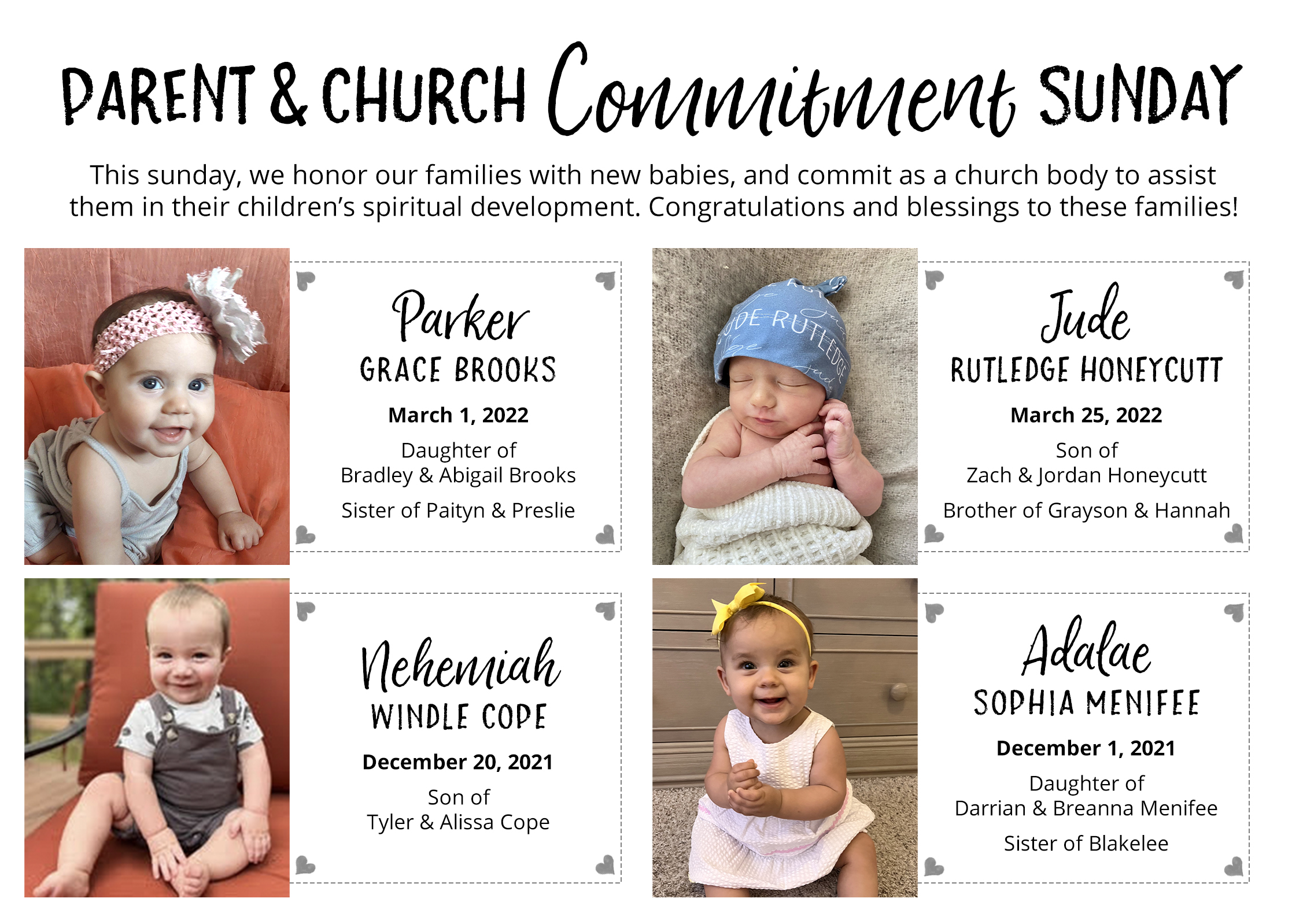 Today's a special day for our new parents and for all the church as together we commit to pointing our children to Jesus. We are glad you are here today. A special welcome to our guests. If you're looking for a church home please talk to one of us and we'll be glad to help you.
PRAYER LIST
Prayer List—Marsha Jones, Mike & Barbara Hardy, Debbie Black, Kim Pendergrass, Peggy Clark, Charla Hinson, Vicki Ard, Bettye Henry
Ongoing Needs—Chris Reinsch, Shawn Landrum, Larry Long, Corky & Linda Armstrong, Sandra Aynes, Bobby & Peggy Slaughter, Kaile Williams (Norris), Roy Galyon, Bob Gower, Jim Scroggins, Patrick Mullins, Ernie & Kathy Sturch
Homebound—Ray & Marsha Jones, JD Huffman, Dewey & Joyce Martin
Expectant Mothers—Ashley Briscoe, Brittni Calvert, Alissa Cope
Missions—Hammer & Dela Afakule (Togo), Mario "Pepe" Torre (Monterrey, Mexico), Jimenez family (Cartagena, Colombia), Cristian & Ana Corrales (Bucaramanga, Colombia)
Friends of Park Avenue— Lynn McKee, Robert Hampton, Joyce Kane, Watkins family, Drena Engler, Carl Kirvin, Craig Dennis (former member), Rebekah Taylor (great niece of the Russell's), Becky Sanchez (wife of Gil Sanchez, Director of orphanage in Mexico), Greg Oliver (father of Karee Earnhart), Bill & Wanda Young (friends of Corky & Linda Armstrong)
Please notify the church office at office@parkavenuechurch.com for updates to the prayer list.